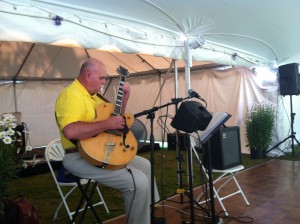 Simply said, Music by Doc is designed to be an essential component of each and every event where our music is played. Strict adherence to volume control insures staff & guests alike the ability to converse unencumbered.
The  musical selections can be best described as Light Mainstream Jazz. To reach today's broad audiences we pepper our Play List with more contemporary and Country standards while maintaining our successful traditional mainstream style.
While each and every event is unique, here is a list of venues where Music by Doc has been very well received.
Atkinson Resort & Country Club
Delrossis Trattoria
Bedford Falls
Ledgewood Bay
Memphis BBQ & Blues
Soughegan Valley Chamber of Commerce
Milford Pumpkin Festival
Wilton Main Street Cafe
Cassidys grille and Coffee House
J's Tavern
WiltonFestival
Wentworth Country Club
Wilton Public Library
Mason Old Home Days
Lyndeborough Fair
Grill 603
Music and Mimosas Currier Museum
Made in NH Expo
 Hilton Saratoga NY
Hilton  Nashua NH